Pancakes, but better: Lithuanian "Varškėčiai"
May 9, 2020
Varškėčiai (n.) [varsh-ke-chay] : A delicious Lithuanian take on pancakes made with curd cheese
Apparently this dish is not exactly a Lithuanian dish. It can be found in many cuisines of Eastern Europe. In Belarus, Poland, Ukraine, and Latvia, these pancakes are called Sirniki, but in Lithuania, we call them Varškėčiai.
It makes a great breakfast because it has a lot of protein from the curd, is fairly easy to make and works great with fruits and yogurt. Still, if we are honest, the main reason for making it was that we had curd-cheese in our fridge getting dangerously close to the expiration date.
Cottage-cheese, which is a quark of curd?
The first thing you should know is what we mean by curd cheese. If you are from Eastern Europe, you probably see it every day and all you need is a picture, so here it is:
If you're not from Eastern Europe, it gets a little more complicated. We did our research and apparently it has many names: quark, cottage cheese, sour milk cheese, and farmer's cheese. In Lithuania, we call it Varškė, in Russia they call it Tvorog.
Anyway, seems like nobody really knows what to call it. At least that was our conclusion. Basically it is what you get by heating and draining milk that has gone sour. The important thing is for the curd to be dry and separated from the whey, and in small chunks.
Oh and this is a random thing we came by while doing our research on cottage cheese. We thought you might appreciate it.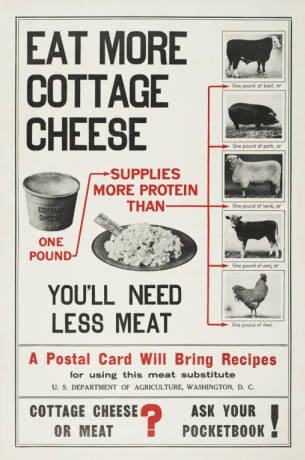 Making the actual pancakes
As for the pancakes, all you need is curd cheese, flour, eggs, some sugar, salt and oil to fry it all on.
You basically dump everything in and mix it together. One of the things that were new to us (at least to Jonas) was sifting the flour. We found a tiny strainer in our kitchen to use as a flour sifter. So we sifted it into the cup measure until we realized that it's just easier to measure it first and sift it over the bowl. This might have made the flour measuring less accurate… (facepalm)
When it is all mixed together and sticky, make them into a burger shape with your hands and them and fry them.
By the way – when forming them, it works best to have a cup of water close by to dip your fingers in each time you form a pancake (to keep the dough from sticking to you). Then form the dough with your wet fingers and "dip" the uncooked varškėčiai in plain flour (third picture below). This ensures more even cooking and a more even colour… we know because Kate made the first ones without this step…
Make sure the temperature is high enough that they are cooking through but not too high so that they don't burn. Covering the pan with a lid is a good idea, as it keeps the heat in.
We had some that had to come back to the pan because the middle wasn't done and we did burn a few. Still ate them though…
As we were frying the first batch we decided to experiment a little. We looked around and saw a half of an apple on the table, so the first thing we did was to put some apples in. If you ever did an experiment, you know that once you start, it isn't easy to stop, so once a batch with apples was done, we also added some cranberries. Our experiments paid off and the pancakes turned out great.
Once you are done frying, put some sour cream, yogurt, fruits or jam and sink your teeth into the puffy, round varkšėčiai.
This is the plate before we ate.
This is the same plate after
We may have overeaten but in our defense, it was pretty good! 
Print Recipe
Cottage cheese pancakes (Varškėčiai)
Cottage cheese pancakes can be found in many cuisines of Eastern Europe. In Belarus, Poland, Ukraine, and Latvia, these pancakes are called Sirniki, but in Lithuania, we call them Varškėčiai.
Course:
Breakfast, Main Course
Keyword:
cottage cheese, cottage cheese pancakes, lithuanian, pancake, varskeciai
Equipment
Frying pan

Measuring spoons and cups

Mixing bowl

Small bowl for water
Ingredients
2

Eggs

2

Cup

Dry cottage cheese

crumbled (250 g)

3

Tbsp

Sour cream

1

Cup

Regular flour

1

Tbsp

Sugar

¼

Tsp

Salt

Some oil

for frying

¼

Cup

Cranberies

optional

½

Apple

sliced
Instructions
Break the cottage cheese to crumbles and measure 2 cups into a bowl.

Mix in 2 eggs, 1 tbsp of sugar, ¼ tsp of salt and 3 tbsp of sour cream. Mix well.

Sift the 1 cup of flour and mix it with the other ingredients.

The dough might stick to your hands so make them wet and form round patties about as thick as your thumb. It should look like a small hamburger.

Fry both sides in oil until golden brown. Serve with sour cream and jam.
You May Also Like
April 11, 2020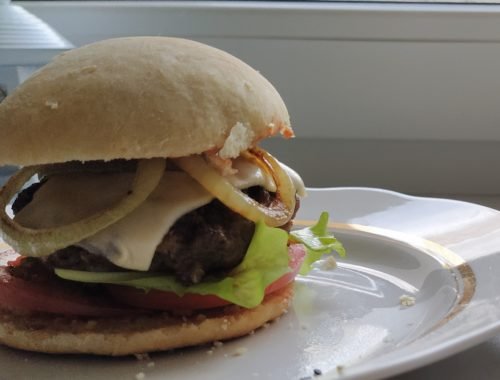 May 23, 2020
April 11, 2020