The first peanut butter cookie I ever liked
May 16, 2020
When I gave Jonas the first cookie to try fresh outta the oven, he took a big bite and got a cramp in his jaw. You read that right. A cramp. I was concerned that it was because the cookie was too hot to eat and/or hit a sensitive tooth.
Nope.

It was just the reaction of his taste buds to the cookie: instant saliva rush that was a bit too powerful. I didn't even know that was possible. But then again, these cookies might just be that magical.
…meaning "the first 18 years of my life" – I didn't like nuts, so if you were nuts, I didn't like you (Jonas' edit). Except roasted or boiled peanuts (Half of my childhood was spent in The South, USA…where boiled peanuts are a thing…). But nothing else really. Anything with nuts = yuck, ew, and gross. Including peanut buttery things.
Then I became a vegetarian.
Long story short, both my body needed alternate sources of protein AND I tried eating a few nuts a day to make myself like them (thank you, psychology professor for the idea – it worked).
When I was young and beautiful and vegetarian, I had the support and company of several vegetarian friends, one of them being my amazing friend Alex. Among her many talents, she is a cook and baker. We cooked together A LOT and at some point, we made these cookies. My peanut butter past made me skeptical at first, but when I tried them, my reaction was probably something similar to Jonas'.
It sounds too over-dramatic to say 'life-changing' but I guess food blogs have the tendency to over-dramatise their posts... Maybe I will phrase it this way to be more accurate: Alex's friendship was life-changing; her pb cookie recipe played a tiny role too. 🙂

[Speaking of over-dramatic, here's an over-dramatic photo to ask - are you on Team Naturale or Team Rolled when it comes to the shape of your cookies?]
Cookies to be made with friends
As a shout-out to my friend Alex, who lives much too far away now, I encourage you to try this recipe with one of those life-changing friends. Enjoy the time spent together and the pb goodness!
A side note to our picky-eater readers – when you don't like a food, it helps to try making it a different way – in the beginning of my journey to liking nutty foods, I discovered I liked peanut butter and banana sandwiches, for example (with a sprinkling of cinnamon on top), and I do like peanut butter and apricot jam sandwiches. I still am not a huge fan of nuts in baked things, to Jonas' dismay… but I hope that helps!
Print Recipe
Peanut Butter Cookies by my friend Alex
Keyword:
baking, cookies, peanut butter
Equipment
2 mixing bowls

1 baking sheet

mixer

Oven
Ingredients
Wet Ingredients
1

cup

room-temperature butter

unsalted

2

cups

peanut butter

smooth or chunky - your choice!

1⅓

cups

brown sugar

1

cup

white (granulated) sugar

4

eggs

if in a humid climate, try adding 1 less egg

½-1

tsp

vanilla

optional
Dry Ingredients
3⅓

cups

flour

1

teaspoon

baking soda

1

teaspoon

baking powder

½

teaspoon

salt
Instructions
Pre-heat the oven to 375°F/190°C

Cream together the butter and peanut butter.

Do not melt the butter! The consistency of the cookies will be better if the butter is not melted. Also, try to handle the dough as little as possible so as not to melt the butter with your hand heat 😉

Mix in both kinds of sugar

Beat in the eggs (and vanilla)

In a separate bowl, mix all the dry ingredients together.

Add dry ingredients to the wet ingredients, until everything is mixed. Do not over-mix!

Using a spoon or your hands, plop equal portions of dough onto a clean baking sheet. You can roll the dough (minimally - try not to heat it too much with your hands)

You can use a fork to press down the dough and make a pattern. You could also shape the dough into a tyrannosaurus rex (PLEASE send photos if you do)... The shape is up to your imagination.

Bake in the pre-heated oven for about 12 min.

Eat them, share them, give them to your neighbours!

Store in an air-tight container.

Tip: if the cookies get too crunchy/hard for your liking, store them in a sealed container with a piece of bread. It softens up the cookies.
You May Also Like
April 11, 2020
April 11, 2020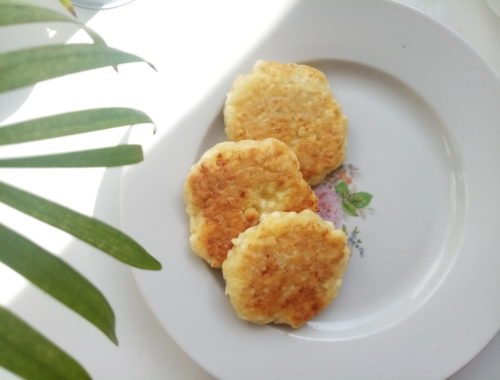 May 9, 2020