Sunday Waffles for a Hundred Family Members
April 11, 2020
We like waffles. If they're done well, most people like them too. And the greatest thing is that you hardly have to try to make them well. They look good without much effort too, and if you do put some effort (or right toppings), they can look amazing.
The waffle journey
To be honest, waffles were something we rarely made. Probably the biggest reason was that neither me nor Kate had a waffle maker. But we got one for our wedding!
And it is a pretty cool one. It makes heart-shaped waffles, which are more of a thing here in Lithuania than the square ones. It doesn't stick and makes a waffle in about 2 minutes. You can get a similar one from Amazon here. Here is how ours looks.
Great for masses & community building
More than a year ago a friend and I started making coffee for people who come to our church early. In a year it developed into a ministry with several people (including Kate) joining us each Sunday. One of the ideas that we had from the beginning was to add something that people could have breakfast together. We went with waffles since you can do it without a kitchen, it looks great, feeds a lot of people and is fairly easy to make.
So… It took some logistics work, but we did it!
I asked several people to get the dough, more people to bring their waffle makers (we had 6 or 7 in the end) and obviously some helping hands.
We had a whole cafe. With some of us making the waffles, others, putting the topping and the rest preparing and serving the coffee.
To let more people have a taste, we broke them into pieces and gave 3 pieces each with whipped cream blueberries, strawberries, and chocolate syrup. When we had more, some came for seconds. In total, we gave about a hundred servings of waffles that Sunday.
Unfortunately, we don't have pictures from doing it at our church (it was busy), but here is one from a Sunday much later, when our church was already meeting online due to COVID-19.
Making the Wafflers
It depends on how many waffles you are trying to make, but if you are making it for your church. You will need a big bowl, lots of flour, butter and a lot of eggs.
Making the batter is pretty simple. You basically melt the butter and mix everything. Keeping the order helps to mix well because if you don't mix dry and wet ingredients separately before putting them together, they don't come together as well.
Anyway, we used a basic recipe that I found online and multiplied everything by 5. That gave us about half the better that we needed.
Topping the waffles
If you are going for Insta-worthy, I suggest putting some whipped cream strawberries and chocolate sauce. I suppose sprinkles can look nice too.
If you are going for the taste though, go with whatever rocks your boat. Jam, honey, peanut butter, and bananas are some of the toppings that we like on our waffles.
What topping do you like on yours?
Print Recipe
Basic Fluffy Waffles
This is a basic waffle recipe. Waffles rise well, so they end up fatter and a little crunchy.
Keyword:
breakfast, Waffles
Ingredients
2

Eggs

3,5

tsp

Baking powder

1

tsp

Salt

2

tbsp

Sugar

2

cups

Regular Flour

1

tsp

Vanilla extract

(optional, but recommended)

1½

cup

Warm milk

⅓

cup

Melted butter
Instructions
Mix the dry ingredients (flour, salt, baking powder and sugar) in a seperate bowl.

Melt the butter and beat the eggs, mix it together, add milk and vanilla extract; start heating the waffle maker.

Put dry and liquid ingredients together and mix well. Should have a creamy consistency.

Pour 1 cup of the batter onto the center of a waffle maker and cook until done.

Serve with toppings of your choice.
You May Also Like
April 11, 2020
May 16, 2020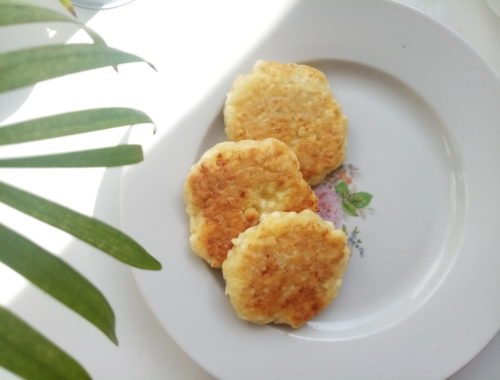 May 9, 2020